As a Respiratory Therapist at St. Luke's, Kayla Baker has been present for many emergency C-sections, just in case the baby needs help breathing. However, she was not expecting to have one herself. When her first child, Brynly Irene, required an emergency C-section, she experienced the process from a completely different perspective. Here is their story.
The night I was having contractions, I called the Birthing Center a couple times. I never had a baby before – I didn't know if it was too soon to go in. The nurses were super nice and suggested I stay home as long as I could. I took a bath to get my mind off it.
Around 10 p.m., I was feeling pretty miserable. I called again and they told me to come in. I woke up Cody, my husband, grabbed my packed bag and we got to St. Luke's Birthing Center about 11 p.m.
A labor and delivery nurse took me to a triage room and hooked me up to monitors. The physician came in and we found out that I was dilated past four. They quickly got me into a birthing suite. Baby was coming!
A dropping heartrate
Our birthing suite was so nice – it faced the lake and had a big bathtub. I tried to take a bath, but I was so uncomfortable. Around 2 a.m., an anesthesiologist came to give me an epidural. That was amazing – I felt so much better.
After a while, baby's heart rate started to drop. They broke my water so a probe could be put on her head to monitor her heart rate better. We found out that her heart rate would drop when I was in certain positions, so I avoided those. But after a while, her heart rate was dropping no matter what position I was in.
When it was time to start pushing, something didn't feel right. We tried another position, but I could tell something was wrong. That's when they told me that I was going to have to have an emergency c-section.
The OR from a mom's perspective
As a respiratory therapist, I respond to emergency C-section calls often. I knew what to expect, but now it was happening to me. It was a really strange position to be in!
My husband and I were rushed down to the operating room (OR) to meet my OB-GYN Dr. Claire Mallof. Also, two of my co-workers, Leah and Sam (also respiratory therapists), responded to the call. It was so great to have them there. I was nervous, but I knew that in the end everything would work out.
It was a wild experience, and it all happened so quickly. I got in the room and they started. I could feel things, but I wasn't in any pain. I could hear everything going on but couldn't see because they set up a drape between my head and body.
Brynly cried instantly – that's when I knew she was born – and Dr. Mallof raised her above the sheet to show us.
Welcome to the world, Brynly Irene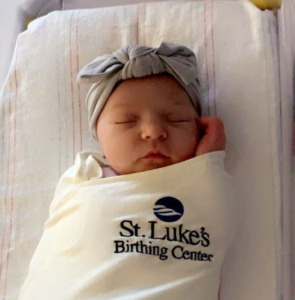 I was so nauseous I couldn't hold her just yet. They brought her to the warmer, cleaned her off, gave her to Cody. He was crying, holding her, while the anesthesiologist took pictures with my phone.
We went to the recovery room, and I finally got to hold her and try to feed her. Cody called my parents, who had no idea about the c-section. None of us were expecting that kind of a delivery, but it turned out just fine. Everyone at St. Luke's took such great care of me.
The nurses in the Birthing Center were especially great. They were a huge help to me and Cody throughout the whole labor process and afterwards.
Now, when I'm working and get called to a C-section, I know exactly what it's like to be the mom. Nothing ever goes exactly how you think it will, and that's okay – especially when you have a great team taking care of you. Even with the emergency c-section, I would do it all again – a hundred times!
Read more birth stories from moms like Kayla.
St. Luke's Birthing Center is located in Duluth, MN, with St. Luke's clinics in the surrounding region, including Superior, WI. To schedule a tour of St. Luke's Birthing Center, call 218.249.5605.