Amber Holt had a vision for how her second delivery was going to go: calm, medicated, and in the hospital. However, as her fiancé Shawn Roske raced her to St. Luke's while she was in labor, she wondered if she was going to deliver right in the truck! Here is their story.
Three days past my due date I was having contractions. They were spaced out, and I didn't think too much of it. But, I knew my body was getting ready.
My fiancé Shawn was working an overnight shift, and I was home with my sister for the evening. The plan was for her to watch our two-year-old, Dax, when it was time for me to go to the hospital. She knew I had been having contractions all day and kept making sure I was okay.
As she was getting ready to go home, she paused and looked at me. She asked if she should stay. I told her that I'd be fine. Shawn was going to be home around 5 am. I thought I could make it until then.
Baby had other plans!
Rushing to St. Luke's
Shortly after she left, the contractions got more intense. Then they started coming every 15 to 20 minutes.
I have a pretty high pain tolerance and kept telling myself that it wasn't too bad yet. But then I called my sister, and while we were on the phone, I got another contraction that changed my mind. I told her she should come back. We hung up, and I immediately called Shawn.
He got to the house around 2 am. At that point, I the contractions were knocking the wind out of me! I kept thinking to myself, "Why did I wait so long?" We hopped in the truck with the car seat and diaper bag, and began our ride to the hospital – 40 minutes away!
"Should I pull over?"
As we drove, the contractions got stronger and stronger. Shawn called St. Luke's Birthing Center to let them know that we were coming. I started to wonder if we were going to make it.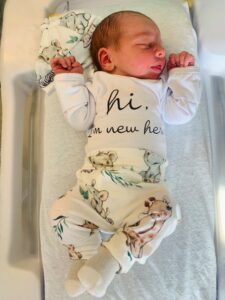 By the time we drove into Superior, I was yelling through the contractions and squeezing Shawn's hand so hard it was probably cutting off his circulation. It got to the point where he asked me if
 he needed to pull over. That was such a scary thought! "I am not delivering this baby in the truck," I thought to myself. I told him to just get us to the hospital, as quickly as possible.
When we were seven blocks away, I felt like baby was coming. The contractions wouldn't stop. I didn't have a chance to catch my breath. I did my best to hold on, but there are about a million stoplights in those seven blocks!
As we pulled up to the parking ramp my water broke and my body did an involuntary push – it completely took over. I had no control. I thought, "Oh my gosh, I'm about to deliver this baby in this truck!"
We got to the second floor of the parking ramp and two nurses were waiting for us with a wheelchair. Shawn screeched up to the door, hopped out and helped me into wheelchair. We raced through the skywalk and up to the Birthing Center.
Facing my fears
I felt my body push again. Baby was coming, and I was really scared! I was medicated with my first birth, but I knew there wouldn't be time for that now. I didn't know if I was going to be able to handle the pain. All the way up to the Birthing Center, my nurses were so sweet. They kept telling me, "It's okay. We're almost there. You're doing great!"
Once we got to the suite, my nurse checked to see how far along I was. Then, she popped her head up and said, "Baby's coming! I can see his head and I need you to push, honey."
Suddenly, I felt paralyzed. I said, "No, I don't want to. I can't do it."
But my nurse was awesome. She looked at me said confidently, "You got this. I know it's scary, but you can do this."
That was just what I needed. Plus, I knew there was no going back at that point. I gritted my teeth and pushed once, pushed twice. Then, baby came flying out!
Welcome to the world, Radley James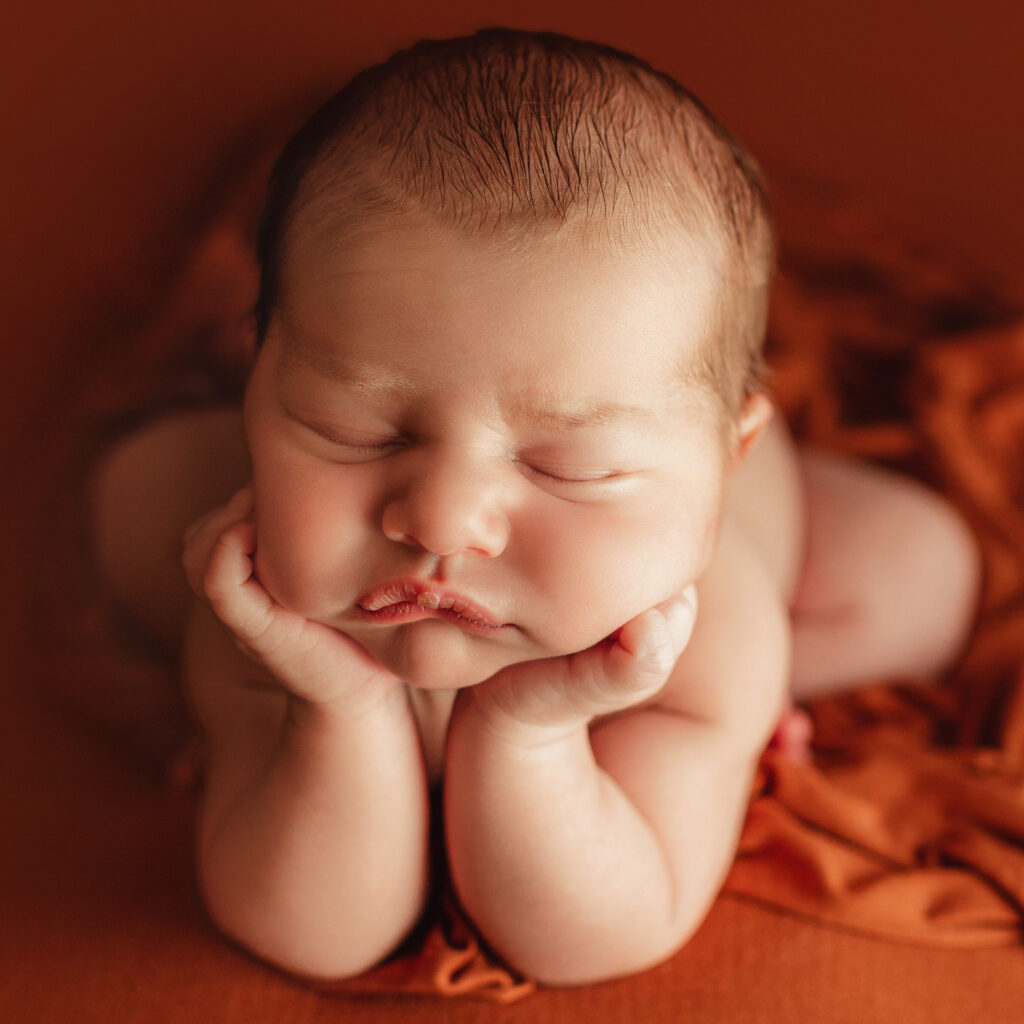 It was 2:45 am when we pulled into the parking lot. Ten minutes later, our second baby Radley James was born! I was so relieved. I looked at Shawn and said, "I can't believe that just happened!"
Everyone at St. Luke's Birthing Center was awesome – for both of my deliveries. I cannot say enough about every single nurse and doctor we had. Especially for my second delivery, since I practically gave them no time to think! They worked like a well-oiled machine and made me believe that we were going to be okay. They're so good at what they do, and you can tell they love their jobs.
After our stay, we were excited to go home with our new little one. But, at the same time, we really enjoyed being at St. Luke's. Everyone is so nice and accommodating. Plus, they made what could have been a really awful situation into a pretty awesome story!
Read more birth stories from moms like Amber.
St. Luke's Birthing Center is located in Duluth, MN, with St. Luke's clinics in the surrounding region, including Superior, WI. To schedule a tour of St. Luke's Birthing Center, call 218.249.5605.