---
At St. Luke's Birthing Center, we make it a priority to exceed the highest standards of care and seek the training needed to best serve our families. With every certification, we bring a more advanced knowledge base to our expectant moms. The Birthing Center itself has two prestigious certificates and the nurses currently have 23 different advanced certifications amongst them. This is well above average, and speaks to the commitment our staff has to patients.
Delivering patient-centered care is the most important thing we do, as evidenced by our growing list of certifications.
Baby-Friendly Designated
Designated 2017-2022
Becoming a Baby-Friendly facility is a comprehensive, detailed and thorough journey toward excellence. We provide evidence-based maternity care with the goal of achieving optimal infant feeding outcomes and mother/baby bonding. To achieve this certification, St. Luke's Birthing Center met an extensive set of guidelines and evaluation criteria related to offering feeding support to mom and baby.
For a full description of this certification, read more on our blog.
---
Minnesota Breastfeeding-Friendly Maternity Center 5-star Designate
Recognizing maternity centers in Minnesota that have successfully implemented the Ten Steps to Successful Breastfeeding as defined by the World Health Organization.
---
Perfect Score for Breastfeeding Practices from the 2020 CDC Maternity Practices in Infant Nutrition and Care (mPINC) Survey
The mPINC survey measures care practices and policies that impact newborn feeding, feeding education, staff skills and discharge support.
---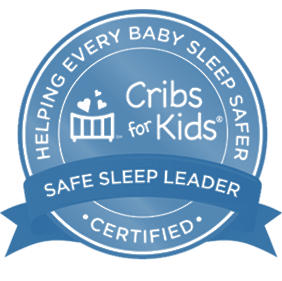 National Certified Silver Safe Sleep Leader
Recertified 2022
St. Luke's is proud to be the first hospital in Minnesota to receive a National Safe Sleep Hospital Certification by Cribs for Kids®. Becoming a Silver Safe Sleep Leader means making a commitment to reduce infant sleep-related deaths through the following requirements:
     Develop and maintain a safe sleep policy
     Provide staff serving infants under the age of one with training on infant safe sleep
     Provide infant safe sleep education to the parents of infants prior to discharge
     Use or recommend wearable blankets
     Record progress and report on success
If you have questions, our entire staff is trained on safe sleep practices and can consult with you at any time.
---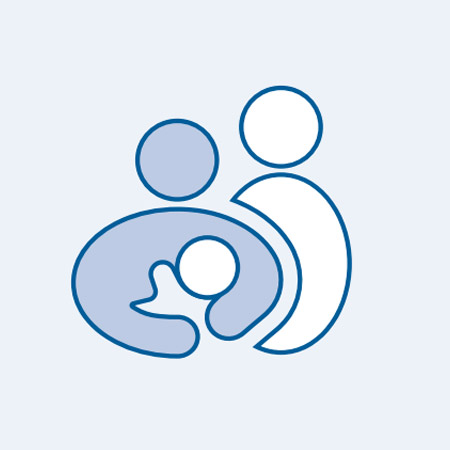 Blue Cross Blue Shield Blue Distinction Center for Maternity Care
This distinction is given to Centers that demonstrate expertise and a commitment to quality care for vaginal and cesarean section deliveries. These Centers demonstrate better overall patient satisfaction and a lower percentage of early elective deliveries.
---
Advanced Certifications
These members of our nursing staff have pursued 28 different advanced certifications because of their individual commitment to our patients.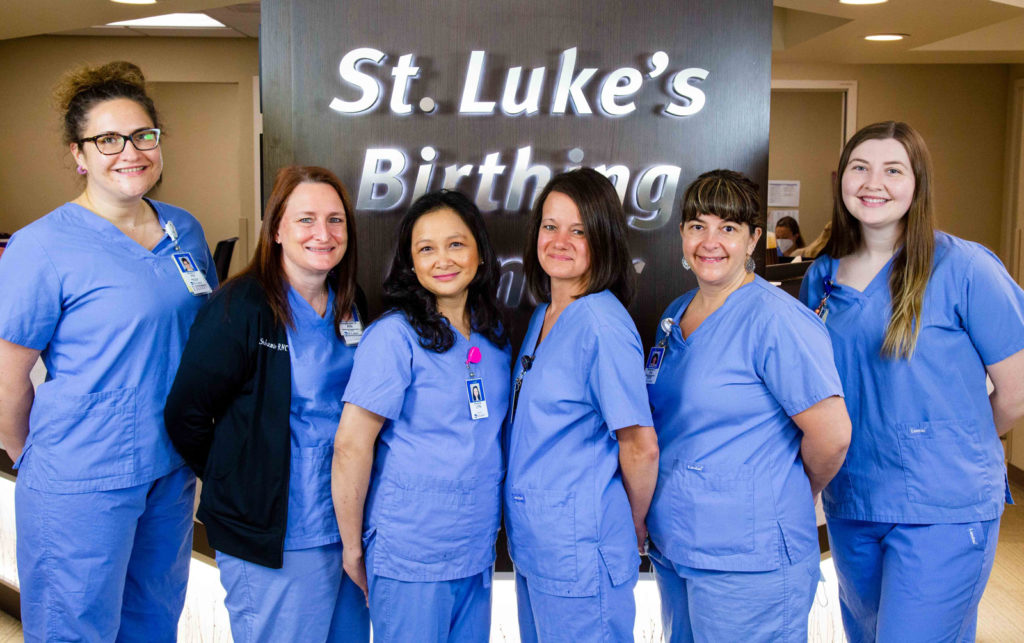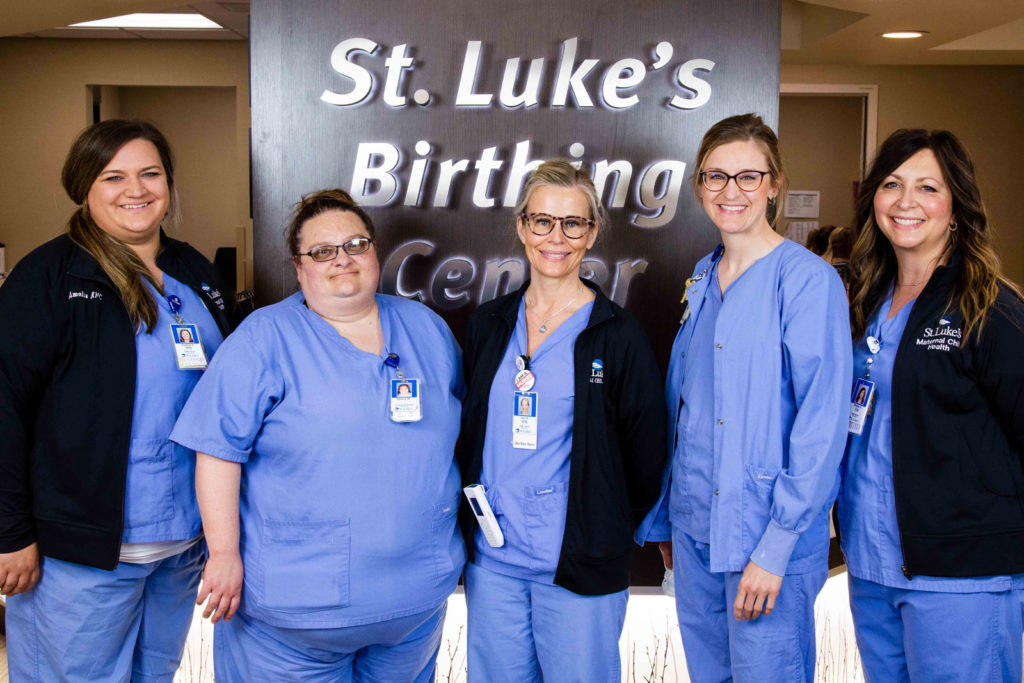 AfterCare Clinic-Free Lactation Help
As a Baby-Friendly Designated Birthing Center, providing ongoing free lactation support to St. Luke's patients is one way we help new moms. St. Luke's has seven lactation certified nurses, including three who are International Board Certified Lactation Consultants®. An IBCLC is a health care professional specializing in the clinical management of breastfeeding and lactation. This certification—which requires hundreds of hours of education courses and clinical experience as well as an exam—illuminates the dedication of our nursing staff to offer the guidance and expertise moms need.
Because so many of our staff members have achieved this type of certification, you can count on having a lactation certified nurse available every time you visit the AfterCare Clinic.
Inpatient Obstetrics Nursing
To provide an even higher level of specialty care, many nursing staff are certified in Inpatient Obstetric Nursing (RNC-OB). This intensive program requires thousands of hours of specialty experience, clinical experience and an exam. Nurses earning this certification gain a deeper understanding of maternal factors, fetal assessments, labor and delivery, obstetric complications, postpartum and newborn care.
Childbirth Education
St. Luke's also offers childbirth education classes taught by professional nursing staff that work directly at the Birthing Center. Who better to answer your questions about what to expect when you are here?
Ultimately, the goal of seeking certification in any specialty is to have a deep, rich knowledge base and utilize that to support moms' goals and provide great outcomes. We're fortunate to have a team that has invested not only in their work, but also in the experience that every patient has when they come here.
St. Luke's Birthing Center is located in Duluth, MN, with St. Luke's clinics in the surrounding region, including Superior, WI. To schedule a tour of St. Luke's Birthing Center, call 218.249.5605.